Genting Trip (First one 29-30th August)
Sorry for posting so late everyone.. Kay, first Genting trip. Quite a few of us couldn't make it for this trip, so only 8 of us went - Myself, Jieqiang, Sao Lee, See Tho, Keat Wei, Han Hui, Shaun and Zhao.
We had to wait for Shaun who came soo late, so took the 10 o'clock bus up. Bus ride was not very nice, as the driver was speeding just before the cable car station. I know I should be used to driving fast, but this was something else, the massive size and weight of the bus made it feel like it was going
at a much faster speed than it really was, and coupled with the body roll and all, made it very very
scary, at least to me. The huge dark cloud covering the top of the mountain didn't help make it any better a ride too >.<
But we got there safely, thank God. Shaun very smartly suggested that we take the stairs up to the cable car docks as there were a lot of people waiting for the elevators. I remember him saying that it's not that far up. Yeah right.. 7 floors up is VERY VERY high up! And tiring too! Exercising should never be part of a holiday!
Checked in at the Theme Park Hotel, which looked, and really was, empty.
This is the coridor just outside our room. Not a pleasant sight eh? (The dimly lit and empty coridor! Not Keat Wei XD) The room was not too bad, had two queen sized bed in it, although it was obvious that it was really really old. The mattresses were so hard, that it didn't make much difference sleeping on it, or on the carpeted floor. A little later on we discovered that the room was infested by a lot of cockroaches! Small tiny ones.. Eww! Jieqiang couldn't hide his happiness as he laughed away instead of shoo-ing his bretheren away =).
Had enough of the horrible room, and we went into the Theme Park, where we had a quick lunch. The first ride we went on was the Fun-Kart.. Which turned out to be a real bore; the cars barely any faster than a normal person's walk. Crashing into everyone close to me (Shaun had a nice bump from behind :p) was a bit fun, but still didn't save it from being a total waste of time. And the ride attendant questioned me about really being a Malay =.=". Who in the right mind would simply want to be a Malay??
Next was the Corkscrew. Not too exciting either, and Shaun and I had to go through what has to be the worst scream-fest ever! Why? Han Hui was directly behind us, that's why. His 'unique' screams were disturbing at best, and totally disgusting overall; sounding like a constipated man trying all he might to squeeze a huge boulder out of his bottom.
It started raining after that.. Sigh.. Shaun suggested we go for the Sungai Rejang ride, but it was closed. So we went on the next best thing (i'm being sarcastic here, if you don't know), the Antique Car ride..
Jieqiang, Sao Lee and Keat Wei got in a car ahead of the rest of us. We tried in vain to catch up with them, which was just so much faster than ours. Fast-ER, hardly fast at all :p. See Tho and I made forward humping motions to get the car going faster, which it did, by a little. The funny thing is, See Tho kept on doing it even when we passed by a lot of people, including a bunch of pretty girls. He was showing off his 'moves' i guess :).
First group picture of the day! And yes, my shirt has flowers on it, lots of them. hehe..
Escalator pic, funny expression by See Tho :p
C2 tried out the free 'bull ride', but it didn't move at all. Everyone thought it was broken, but right after he got off it, it started rocking like normal. LOL.. Later Keat Wei got the same result too though, so i guess the machine really was broken.
Shaun looking his horniest, molesting a primitive age man. I wonder if he's imagining it was our very own Caveman's butt he was grabbing. Haha.. The Dinosaur ride was closed because of the rain too, so we decided to walk towards the Catterpillar Monorail, thinking it had to be available, being super slow and all. But we were wrong :(.
Sitting at the kids' colouring place, Shaun on See Tho and I's legs. kk bad english, i'm sleepy lah.
We all went back to the hotel room to get some rest, and eat mee cups..
Jieqiang and I kinda bought too much if it. hehe.. So we were all eating our instant noodles, and Han Hui suddenly said "Eh, what's this?" *pulls out a packet of seasoning from his mee cup* SWEAT! Followed with "no wonder it was a bit tasteless.." Like DUH!! You were eating mee with no seasoning la dude!! Just water for the soup!! We all had such a laugh.. LOL..
The joker.. Trying his best to pose like his love, Wai Ken... Sorry about the picture everyone...
Zhao finally arrived around 2, and we went into Snow World.. -5 is sooo COLD!!
Outside, 2 very dodgy men came to us and tried selling 'All Park' tickets to us for RM15 each. Zhao bought one as he didn't have a pass. The two guys claimed that they work with Genting, and that the tickets they are selling are all valid. But the thing is, they both were wearing the tickets on their wrists, which they obviously don't have to had they really worked for Genting right? Anyway Zhao's ticket worked fine, so no matter.
Zhao said he'd try the Space Shot 10 times, but right when he saw it in action, he was like - "crap!" and backed out. LOL!. So only 4 of us tried it - Jieqiang, Shaun, See Tho and myself. The rest chickened out.. Sao Lee wasn't feeling too good after a ride in the Teacup. HH begged me to stop spinning it. haha.. Sure worked better than beer :P
The 4 brave ones :P. Dumb faces by Jq and me..
In action
A shot of C2 and me.. Keat Wei said we looked gay.. Where got?? When girls do it it's fine, but guys can't? So unfair right?
Another group picture, in the hotel room.
Jieqiang getting thrashed by us =)
He survived, don't worry.. Keat Wei looked ready to finish him off with the pillow tho..
Count how many hands are in the picture.. LOL..
Everyone, at 4 in the morning (just after watching Snakes on a Plane). I was wearing shorts :p; first time seeing Zhao wearing specs.. C2 said he looked very nerdy. haha..
Sleeping time!! But.. Ugh.. Weird way to sleep..
On the cable car down.. Sorry Zhao, this is the only one in which we were all in the frame.. You really should ask for a toothpaste advertising job XD..
The cable cars... This pic is pretty interesting... Those in the know, please explain, i lazy..
Sleeping on the bus ride home.

We took a bus to Pudu, because the one to Sentral was full.. From there, See Tho led us (Me, Jq and HH) the wrong way, and we walked all the way to Bank Negara KTM Station! So far! I've had enough of public transport for at least a full year now, seriously. Terrible trains..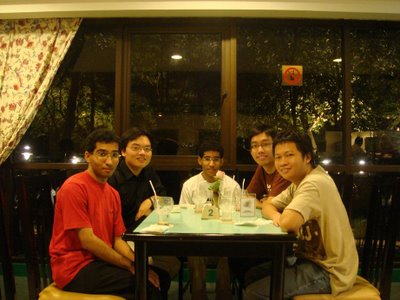 Dinner at Lake Club..
That's about it!! Thanks everyone, for the wonderful memories!!