Nottingham Games
Well...since noone seems to be willing to post about nottingham games here and since im wayyyyy to bored now...ill do a lil update on this pretty dead blog :)
err....sorry i cant really remember when was the notts game but i tot u nottingham ppl might wanna see the campus u guys r goin to study in in the near future.. and its HUGE!!!!
pity u guys have to walk so far to cls this n that... n there is a bus transport system operating inside the campus itself ... shows how big is the campus
First of all is the portland building
this is where ur main dining hall is i guess ....
u get a nice view inside too
oh ya...this is what u guys will prob c everywhere in ur campus..nice but it gets boring pretty soon
next comes the lovely lake with fat ducks ( they would make really nice crispy ducks ) but i cant find a pic with ducks in it...sorry laa...me no camera here...have to steal pics from frens
and ofcoz the sports center...sorry ive got no pics here...but they have pretty much everything on sports here from football to badminton to pingpong to netball...... lucky u :) and it seems very new too
ofcoz i didn stay in the campus long...i went sightseeing in nottingham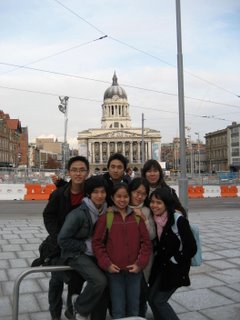 the robin hood statue ...we didn manage to go inside the castle tho :( the gate closed rite in front of our face!!!
and i saw a very unique wedding car!
but the greatest part in the notts games is seeing u guys again!!!!
i dont have many pics with me but im sure KIM HONG will post the other pictures soon :)
good nitez